The Skill Sharing program at St. Matthew's Episcopal Church is a social enterprise where we learn about each other's callings while raising money to alleviate poverty in Louisville. For several years we have been hosting classes where parishioners and community members teach about a skill that they love and could describe as a calling.
Upcoming Skill Sharing Classes
Please check back in August for Fall 2022 classes.

Click here if you are interested in teaching a Skill Sharing class.
Past Skill Sharing Classes
Cooking with Chef Anthony Lamas
If you like good food and like to eat, be sure to join Chef Anthony Lamas of Louisville's popular Seviche restaurant will prepare a three-course dinner in our church kitchen while telling us about his calling to become a chef!
Tour the Church Memorial Gardens with Sara Ceresa
Our Memorial Garden and surrounding space have become a beautiful part of our church campus. Join Sara as she teaches you about conservation, connectedness as you walk around the Memorial Garden and grounds.
Taking Digital Photographs with Caroline Courtney
Is photography a passion of yours or have you always wanted to learn how to snap the perfect shot? If so, join Caroline for a class on the art of digital photography.
How to Make Pickles with Tom Capes
We are happy to have Tom Capes with us to demonstrate how to make pickles. Join us for this fun, Pickling 101 Skill Share class.
Do you want to write, but you're not sure how to get started? You'd like to journal, or write a family history for your kids, or maybe write a poem or a news release for your club; but you're not confident in your writing skills? Writing is easier than you think! Want to learn more? Join Robin Garr's Skill Sharing class, Writing: It's easier than you think.
Country Ham Curing Class with Benjamin Hart and Charles Frank
Are you interested in joining the venerable and time-honored tradition of curing your own meats? Join our annual country ham and bacon class, led by award-winning meat curers. Students can choose to cure and flavor their own bacon, cure a country ham, or both!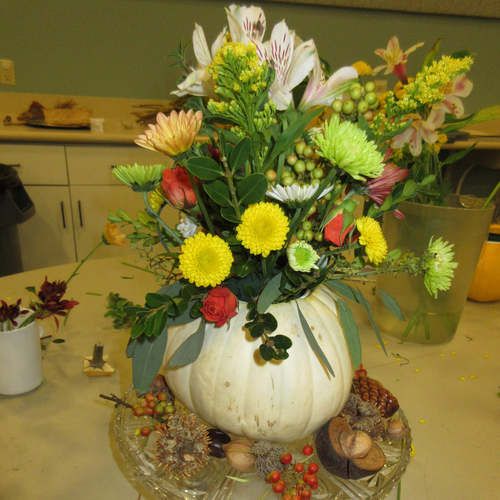 Flower Arranging with Winslow Fairleigh and Heather Duffy
If you have always wanted to learn more about the art of flower arranging, join Winslow Fairleigh and Heather Duffy for this floral design class. The focus will be on winter and fall florals.
National Novel Writing Month with Sophie Kirby and Lucy Bogel
If you are a budding author and want to learn more about NaNoWriMo - National Novel Writing Month - join Sophie and Lucy as they share their experience with the program and teach you how to write a novel in a month!
Focaccia Making with Justin Klassen
There is nothing more comforting than the smell of fresh bread baking in the oven! Join Justin Klassen as he teaches you the secrets of great focaccia making, and leave with a delicious, freshly-baked treat.
Garden Landscaping with Sara Ceresa
Learn about beautiful garden landscaping via Zoom with Sara Ceresa.
Wreath Making with Winslow Fairleigh
What better way to welcome someone to your home than with a lovely door wreath. If you are looking for the perfect wreath, come make a beautiful creation with the immensely talented Winslow Fairleigh.
Making Sushi with Amy Tidwell
Making sushi is an art form, and Amy Tidwell will teach you all the tips and tricks of this beautiful culinary skill.
Bread Baking with Justin Klassen
Come join Justin Klassen as he teaches us the art of baking great bread!